Odeskabel PJSC - Silver partner of the industry conference "SCS. Access Control and Surveillance 2019"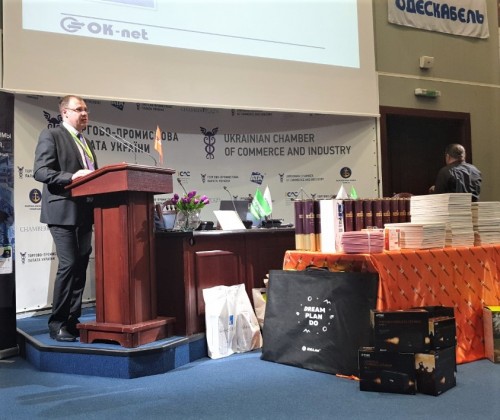 Today, on April 4, the industry conference "SCS. Access control and video surveillance 2019" started in Kiev, in the Ukrainian Chamber of Commerce and Industry building.
Attendees of the conference show a high interest in new SCS OK-net solutions, in particular, in optical solutions.
Sergey SIDORENKOV, head of the Odeskabel Cable Systems Components Sales Department, notes in his report: "After the successful resumption of work on the Ukrainian market last year, the SCS OK-net continues its development. If a year ago the «copper» component of the product line was updated, then we are updating the «optical» one this year. As before, we chose the most popular and requested component models for the new line, however, the range of possible solutions is always much wider. As for the fiber-optic solutions, the possibilities of OK-net are impressive as well. Based on 33 years of experience with "optics", the Odessa Cable Plant is a leader in the manufacture of fiber optic cable. The most advanced technologies are applied during manufacturing, the latest equipment and the best materials are used. Thus, optical fiber is supplied directly from leading global manufacturers: Corning (USA) and Fujikura (Japan), and a part of the design solutions is unique, they have no analogues in the products of other national manufacturers. The 25-year warranty for the OK-net SCS will confirm your confidence in high reliability and perfect quality of our products".
Oleg LUCHAK, Head of the Odeskabel Communication Cable Sales Department, notes the high potential of Odeskabel PJSC: "... Ukraine is now making significant efforts to harmonize the national and European standards base, and CPR will be adopted in Ukraine in the next two years. We have already certified our cables for CPR requirements, and in this sense, Odeskabel's products meet the requirements of the day of tomorrow!"
Чтобы убедиться в оригинальности приобретенного товара, введите номер: